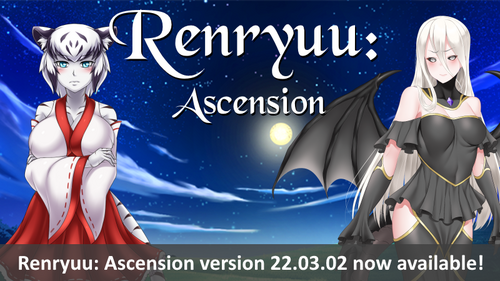 Update 22.03.02 is now available!

Changes:
- The small quest "Letter of Friendship" is now available in Aldlyn.
You need Brad and Sandra in your group, open borders with Dorgania, the events with Mike and the release of a vampire in Kagabangui done, and the dialog with King Lancafew about his opinion on slavery.
Once you have all of these requirements, a guy with black hair will appear near the fountains in the middle of Aldlyn. He'll give you the quest to deliver a letter to his friend in Kagabangui.
The main purpose of this short quest is to guide people to the location of the half burned note lying on the ground in Kagabangui, which was added several updates ago, since this note is necessary to advance the events of the rebels but could be missed by players.
- Government route events of the rebellion are now done, and let you unlock the existing CG scene with Sinrul on this path as well now.
- Added re-made CGs for Flora's sex scene.
- The woman selling "Stinky Lotion" and "Obedience Drug" in Siriveta during the events of the rebel route in Dorgania now also sells those things to players on the government route when you've advanced the events far enough.
- After finishing the quest to arrest all rebels, if you freed the vampire during the events with Mike, you can find the vampire and a former rebel in a tent in Newkungu.
- Added Flaire's good path CG scene. The event starts after you talk with Flaire in her house at the thieves guild below Thremten, after you finished the second attack against the assassins and chose to help Flaire instead of betraying her.
- Added a full body CG for Vivian when you talk with her at the noble's living quarters or at the monsterhall.
- New CG sex scene with Vivian. The events for it start when you talk with her in the monsterhall after her oral scene, and her first dialog about the monsterhall.
- New CG scene with Dea. It starts with a dialog in your bedroom, when you had Dea's first sex scene, unlocked the secret onsen (and the peeping hole is open), and you had the scene with Sara and her Kunoichi in Aldlyn.
- New CG scene with Sara and her kunoichi. The scene becomes available after the new events with Dea.
Files
Renryuu Ascension 22.03.02 [Windows Version].zip
1 GB
Mar 02, 2022
Renryuu Ascension 22.03.02 [Android Version].apk
1 GB
Mar 02, 2022
Renryuu Ascension 22.03.02 [MacOS Version].zip
1 GB
Mar 02, 2022
Renryuu Ascension 22.03.02 [Linux Version].zip
1 GB
Mar 02, 2022
Renryuu Ascension 22.03.02 - Update files for version 22.02.18 or later only!.zip
15 MB
Mar 02, 2022
Renryuu Ascension - Walkthrough 22.03.02.pdf
5 MB
Mar 02, 2022
Comments
Log in with itch.io to leave a comment.
Just asking if I could play this with joiplay..Having a hard time with mobile update cause of storage running low..
As far as I know, based on the comments of some players, the game works with joiplay. However I have no experience with joiplay myself, and can't provide any assistance with it, should issues appear.

Where can I find sinrul captured man
The quest is ;
Convinsting sinrul
Where can i find Sara? She is lost from her house.
She moves to the Shrine of Flunis during events with Dea, and after her scene there disappears for the time being.

I'm stuck, after talking to Vivian in the monster hall and it transports me to the port but nothing happens and I go back to the monster hall again and the same exact thing happens. Did I do something wrong?
There should be a scene that automatically starts when you're ported to the port. But I couldn't find any problem with the event itself. Can you try to re-apply the update or download the full game again, to check if your game files are all updated correctly? Especially the Map014.json file in the www/data folder for the port, which needs to show the last changing date of 27th February 2022.

I've tried downloading the update apk off the internet a number of times, but it constantly fails. Do I need the previous apk for it to work?
Yeah...that's not working either
Where did you download the initial version that was installed on your phone? Are you using the itch app? Did the download not work, or is the installation not working? Do you get an error message?

Originally from the itch website no other version has gave me any issues, downloaded fine, unpacks fine but the install gives me an error of " app not installed"
After about 12 tries it finally had a successful install..not sure what the issue was but it's working now
you got this out already? and it's amazing? INCREDIBLE
can you please tell me who is Vivian cuz i forgot
The blonde maid with glasses.
ah shit, i finished Flaire quest with arresting her long ago, can i redo that somehow?
No. There is no reset for existing choices.